Yeah..BAck from johor.. hehe.. agian as usual will go eat seafood after the shooping.. this time also really eat till full full.. and the boss is so kind giving us a free coconut puding to eat.. It is a coconut agar agar in the coconut..haha.. can understand ? If cannot call me.. I'll tell you.. YEah.. the boss of cuz will be so kind..cuz whenever we go also we spend like RM120- 150 for 3 person..
I only bought 5 shirt nia lo... not so enough lehh.. haiz.. 1 x converse 2 x Body Glove and 2 x Astro Boy.. hehehe.. ARghhh.. Not enough.. there is still many other things i wanted to buy but no buy :(
When come back, this time is got a bit exception.. The bus que is not long but we agian walk across the bridge.. haha.. and sun bian see if the turning water is still turning.. yeah is not Turning anymore.. But this time i found something very funny and interesting.. LOOK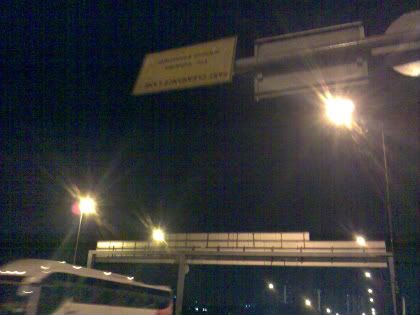 cannot see?
Here you go...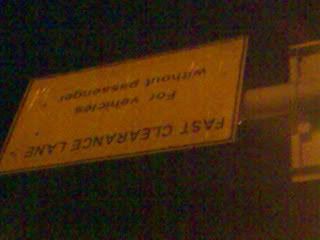 The Road sign is up side down hanging up there..
Oh yea.. i also had my hair cut.. RM33 Cut and Wash at REDs not bad.. hehe.. bye bye my long hair and welcome my spicky.. ^^V